1.XY-DLE-10C
Combo Vending Machine--Snack and Drink Machine-10 Selection Wide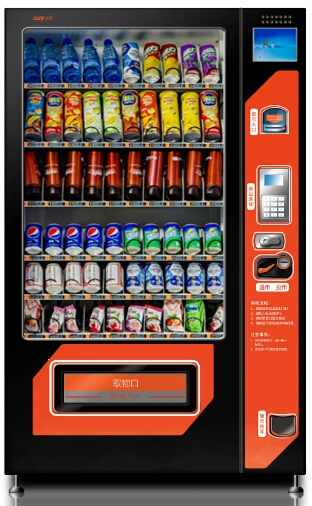 2.Features of the Vending Machine
*large glass window to display goods,double tempered glass to display the goods
*Polyurathame foaming cooling system,be able to keep temperature from 2-12 degrees
* Explosion-proof, dust-proof, water-proof luminous full metal keyboard
* Microcomputer control system with intelligent data query, statistics, accounting, fault diagnosis and other management functions
* Body material: All steel, durable
Main function:
* Sell a variety of PPE product,such as condoms,sex toys,adult products, with high economic returns.
* Cargo trays can set temperature stratified according to the need of customers
* Power-off protection and memory functions
* Drop sensor & vigilant vend detection system
* Leakage protection
* GPRS wireless remote management system
*Be able to add 4 slave lockers.
3.Advantage of products
Highly- advanced user interface :
Elegant aluminium door & LED lighting
Offering optimum product visibility for easy identification of the items and simple selection
8 inch LCD graphic display , numeric stainless pushbutton
XY-Media Range use 55 inch large touchscreen to enhance the interation between the machine and the consumer (optional)
Highly-advanced operation design
The whole payment systems and the electronic board are both locked by the small doors independently .
it keeps the cash safe . (optional)
Tiltable trays for easy product loading
We use newly-designed coil clip, which enable the coil half- turn easily ,unlike traditional clip , which required to takingthe coiloff to adjust the direction.
Multimax high capacity stock can & bottle tray ,which can contain up to 110 cans in one tray (optional)
Highly- advanced technology
Softvend dispense elevator (optional)
Special infrared technology to ensure that your products vend properly. If a selection doesn't drop, drop sensor detects the failure and tries again twice. And if for some reason it still won't drop, consumers can select another product or choose to receive their money back
An anti-theft device and a slow motion closing mechanism : an optional kit is available which will block the dispensing compartment when the vending machine is not being used.however ,when a product is dispensed it will open for a programmable length of time to allow the item to be collected (optional)

4.Introduction of Company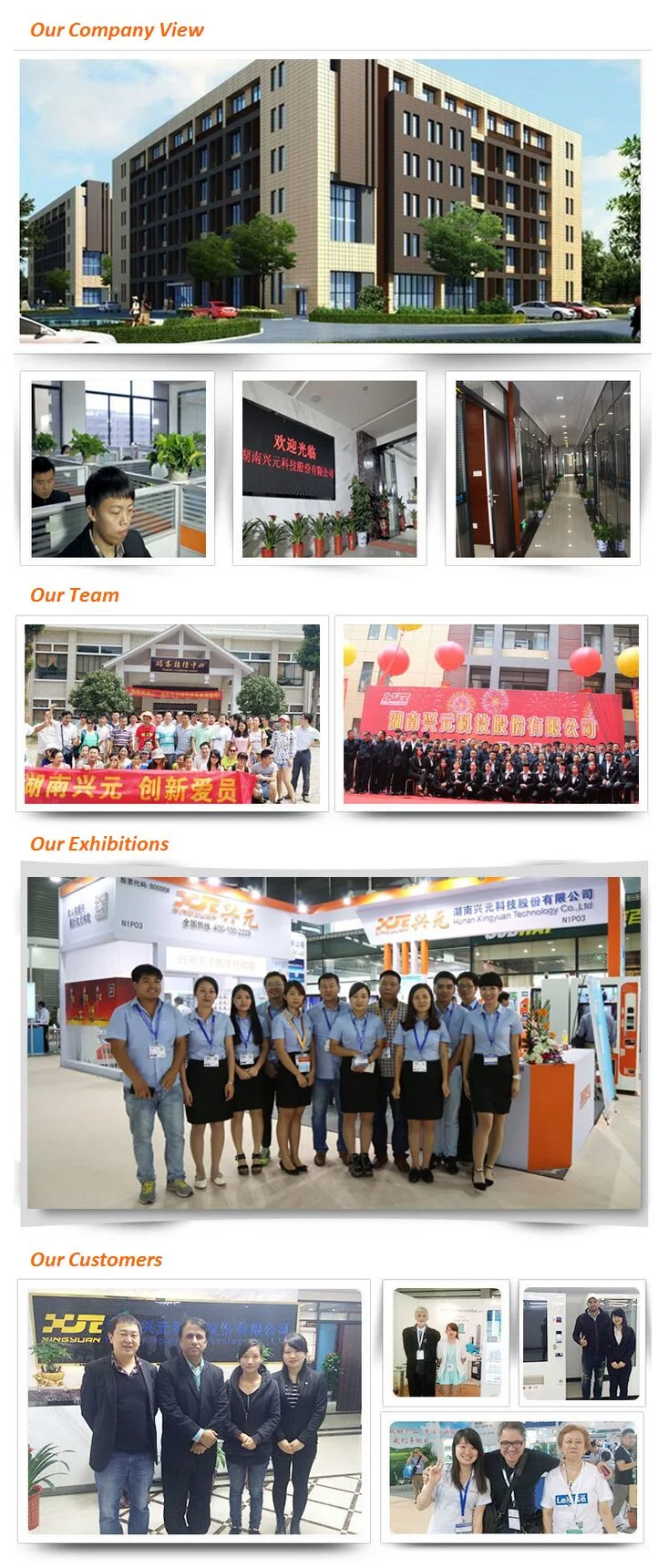 Beginning
XY Vending was established in 2012 , located in Changsha city , Hunan province ,China . Although XY Vending is young , it has a professional and outstanding team which has committed to vending industry for many years and possessed rich experience in design , production , integration and after-service .XY vending members are sharing a proud belief : doing business the right way - dealing honestly and ethically with customers , suppliers , and woking hard to meet or exceed the expectation of customer .
Today
It is growing up so rapidly that scares others .XY Vending is an up and coming star in China's vending industry now.We entrech ourselves as China's leading and most reputable vending machine manufacturer .XY Vending has its own production base including the sheet-metal processing department ,Painting department ,assembling department.XY vending has it own management software and wireless communication technology along with its full line of vending equipment. These integrated offerings are indicative of its Technology strength .
Future
XY Vending machine will be placed in every corner of the world !